We can't wait to meet you in person in Las Vegas for SSW 2022!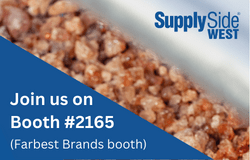 We are excited to announce that for our team will attend Supply Side West 2022 in Las Vegas, Nevada. Meet us booth #2165, which is our US distributor Farbest Brands' booth.The show takes place from October 31 to Novembre 3, in the United States.
Why visit us at SSW 2022?
Discover the versatility of natural gums and their numerous applications in food, dietary and nutraceutical products. Our R&D Director Dr. Isabelle Jaouen, our General Manager Charles Alland and CEO Frédéric Alland will be there to answer your questions and discuss the formulation of safe, clean and sustainable products. The Farbest Brands team will be available to discuss any questions related to sales in the United States.
This is also an opportunity to discuss the recent approval by the FDA of acacia gum as a dietary fiber. Since december 2021, Acacia gum  can be classified as a fiber for nutrition labelling purposes in the United States.Strong scientific literature demonstrates that acacia gum is a fibre. The FDA agreed that acacia gum has physiological effects beneficial to human health, such as the reduction of blood glucose and insulin levels after it is eaten with a meal containing a carbohydrate that raises blood glucose levels.
Feel free to stop by booth 2165!