We can't wait to meet you in person at In Cosmetics 2022!
We are excited to announce that for the first time, we will be attending In Cosmetics  2022, the meeting point for the personal care development community worldwide. We will be on booth P39, in the French pavillon.
The show takes place from April 5 to 7, in Paris Porte de Versailles. This year, the live event will be followed by an online show from April 11 to 22. Join us on both live and digital events!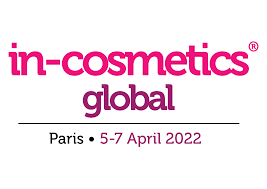 Why visit us at In Cosmetics?
Discover the versatility of natural gums and their numerous applications in cosmetics and personal care products.
Vegetal gums in general, and acacia gum in particular, are considered by formulators as natural, completely harmless and healthy ingredients. Thanks to their viscosity and rheological and texturing properties, they bring stability and texture to cosmetics. They can also be used as emulsifiers in lotions or serums which require specific textures.
Natural gums help formulate clean and sustainable care products. They are at the forefront of the cosmetic market trends as they are vegan, sustainable and responsible.
Our R&D team will be there to answer your questions and discuss the formulation of safe, clean and sustainable care products. In addition, Alland & Robert will  have a special announcement to make on this occasion!
So feel free to stop by our booth!