Karaya gum
Natural prebiotics gum supplier and manufacturer for vegan food
What is prebiotics gum?
Prebiotic ingredients, such as prebiotics gum, boost the number of probiotic or "good" bacteria in the gut, which is thought in turn to improve digestive function and increase overall gut health. This has quickly become a global growth market, with many companies now in need of a natural prebiotics gum supplier for vegan food. There's no sign of demand slowing down any time soon —the prebiotics market was valued at over $3.4 billion in 2018, and is predicted to surpass $8.34 billion by 2026. According to various scientific studies, Gum Arabic, also known as Acacia Gum, has been shown to have a prebiotic effect in people by targeting and increasing the numbers of specific probiotic bacteria.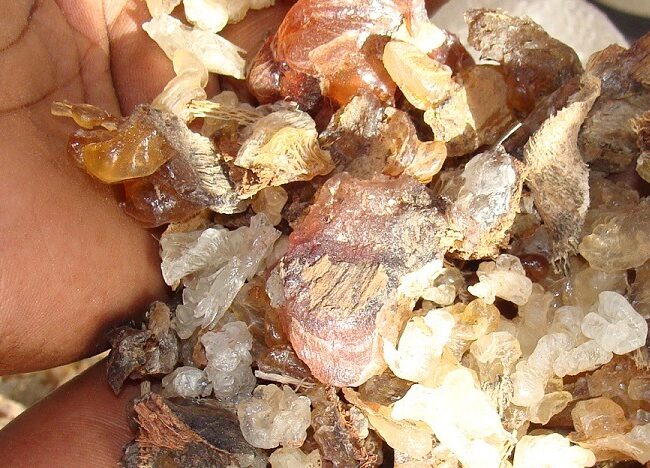 Arabic Gum is a natural and completely safe food additive classified as E414. Derived from the Acacia tree, it is 100% plant-based, meaning it can be used in vegan food. Alongside its prebiotic properties, it is odourless, colourless and very low in calories, making for a versatile ingredient with multiple applications across the food, beverage and health industries, especially as an additive in diet/low calorie products. It is commonly harvested in what is known as the "gum belt" of Africa, spanning countries including Chad, Ethiopia, Mali, Niger, Nigeria and Sudan. Many of these are developing countries, where the gum harvest provides much needed revenue and sustenance to millions of people. Alland&Robert is proud to work in these countries and others as a natural prebiotics gum supplier for vegan food.
Gum Arabic, or Acacia Gum is universally recognised as safe for consumption, and has been used the world for many millennia. In fact, evidence shows that Acacia Gum was used as a food product in Saharan Africa up to 70,000 years ago. It was also a favourite in ancient Egyptian cuisine, and was even rumoured to be a key ingredient in Queen Cleopatra's favourite lipstick, demonstrating early on the versatility of the product.
What are the applications of natural prebiotics gum?
As a natural prebiotics gum supplier for vegan food, Alland&Robert sees the many different uses of Arabic Gum in motion across multiple industries. It is found in thousands of everyday products, from food and drink, to pharmaceuticals and cosmetics. For example, it functions as both a bulking agent, making it ideal for use in both powdered and dry food formulas. Acacia Gum also adds texture, making it the main ingredient in a number of confectionary items including boiled sweets, gummies and even chocolate. Used as a coating, it is essential in the production of sugar-free chewing gum. In beverages, it works as a stabiliser in oil and water solutions, and is commonly found alongside carbonated water and artificial sweeteners in diet sodas. In fruit juices, sports drinks and powdered beverages, Gum Arabic serves to improve mouthfeel, texture and enrichment of fibre as a healthy supplement.
The applications of Gum Arabic extend far past food and beverages however, with the additive a commonly used ingredient in the pharmaceutical industry. Medications in the form of tablets, and nutritional supplements, are used daily by millions of people worldwide. Many of those tablets will feature Arabic Gum as a coating or glazing. Additionally, it adds texture and improved mouthfeel to medicinal syrups, and its adhesive properties means it is also used in products such as dental glue. In cosmetics, Acacia Gum is effective as a thickening and texturising agent, and is used as an emulsifier in creams lotions and serums. It also has nourishing and protective qualities utilised in hair care products. This demonstrates just how many diverse industries we can serve as a natural prebiotics gum supplier for vegan food!
Submit an enquiry or make an order
Alland&Robert are a natural prebiotics gum supplier for vegan food, and can serve all your industry needs. We can advise on how our natural prebiotics gum can be used in your products, on the quantities you'll need and which formulation is best. Simply call us or use the contact form to submit an enquiry or order make an order.