Respecting the planet
Alland & Robert provide our clients with a safe, healthy product and takes the environmental aspects into consideration at every stage in the production chain.
At our factories, environmental performance management is a crucial part of our goods and services offer. We work on controlling our energy consumption, achieve efficiency gains and encourage recylcing and sustainable processes. But we also work to protect the environment in Africa, where we source our natural gums.
Environmental performance in our factories and offices
Alland & Robert is committed to minimizing its energy consumption on its two production sites. Out of a concern for the environment, an energy assessment was carried out in 2010 on our St Aubin and Port-Mort production lines. The carbon footprint assessment was a first step towards better performance management. Since 2010, Alland & Robert has started to introduce corrective actions and improvement strategies identified as a result of the energy assessment, and implemented environmental indicators on each production line.
Now, every year, Alland & Robert is investing several hundreds of thousands euros in production equipment to improve the process and respect the environment. Alland & Robert is launching new studies regularly to optimize energy gains at our facilities.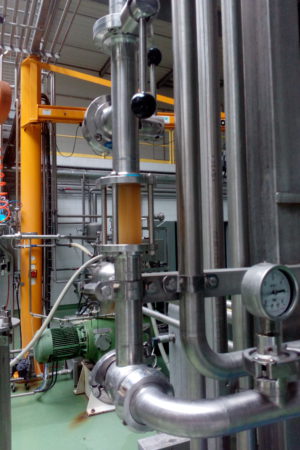 We also believe that education is a key to lowering our emissions. Everyone can help save energy through simple steps like making sure that screens are switched off overnight. In 2013, Alland & Robert has built a third spray drying tower in the respect of environmental friendly design standards like the use of daylight in the building and the optimization of ventilation and heat. In 2017, the new offices built next to the Saint-Aubin factory complied with the highest environmental norm. We are taking many other steps towards efficiency gains in offices buildings, and we are raising our employees awareness so that everyone feels involved and motivated by our objectives.
Finally, Alland & Robert is aware that purchasing decisions are impacting the environment. We choose, when possible, suppliers who are local in order to reduce transport and to promote local business, and we work with companies who have sustainable policies.
In order to recycle and reduce our waste, we partner with a leader in waste management and recycling. Both our hazardous and non-hazardous solid industrial waste are sorted by Alland & Robert's employees, then collected, recovered, treated and recycled by Veolia. Our cardboards and raw materials polypropylene bags are also reprocessed. Alland & Robert is sending 100% of liquid waste to a local water treatment station. This station is focusing on the disposal and recycling of organic waste. The recycling of this organic waste is providing electricity to the administrative buildings in Saint Aubin sur Gaillon, and heating the local swimming pool of the township all year long.
Protecting the African environment and acacia tree forests
Alland & Robert has continually supported the forests of acacia trees in Africa, either wild or grown in plantations. We are pursuing our work with African communities to protect acacia trees and acacia gum, which is playing a crucial role in the lives of millions of african people in the Sahel areas.
Acacia trees are very important for their environment: they prevent desertification, as their root system is similar to a "mixed system" composed of a central pivot that can go down to the water table and a lateral system than can hold and avoid the soil degradation. Acacias are able to hold available water, even from remote depths. The grass carpet created by the bush prevents water run-off and contributes to the reconstruction of water tables. Acacia trees act as a barrier to desertification while nourishing soils, making them more fertile and an asset for farming and for local communities. In addition, by drawing nitrogen from the air and by transferring it to the soils via their roots and their vegetative cover, acacias contribute to the development of the gas cycle while stabilizing rainfall.
Furthermore, in periods of water stress, when the water runs out, acacias provide a much needed water supply to wildlife and domestic species. Acacia trees and their exudates allow to restore green in deserts and contribute to the preservation of local biodiversity. Trees supply forage and shade for cattle, but are also a genuine home for several bird species and are generally a supportive environment for plan biodiversity.
Alland & Robert is participating to global projects to protect acacia trees and help structure the acacia gum sector in producing countries. For example in Sudan, Alland & Robert is helping the Sudanese Forest National Corporation (FNC) to support the rehabilitation and reforestation of areas with acacia trees. The FNC promotes collaborative and sustainable land management system, which integrates woody perennials with crops and/or animals on the same land for greater productivity. Acacia seyal and senegal trees are interspersed in rows of sorghum, sesame and vegetables. The global aim of this project is to reduce the pressure on the established forests.