Protecting the African lands and Acacia trees forests
Alland & Robert believes the African environment and Acacia forests are part of the solution to tackle the climate crisis.
As such, they need to be protected. This is why we also work to protect the environment in Africa, where we source our natural gums.
Alland & Robert has continually supported the forests of acacia trees in Africa, either wild or grown in plantations. We are pursuing our work with African communities to protect acacia trees and acacia gum, which is playing a crucial role in the lives of millions of african people in the Sahel areas.
How do Acacia forests and acacia gum play a role in the African environment?
Acacia trees are very important for their environment: they prevent desertification, as their root system is similar to a "mixed system" composed of a central pivot that can go down to the water table and a lateral system than can hold and avoid the soil degradation. Acacias are able to hold available water, even from remote depths. The grass carpet created by the bush prevents water run-off and contributes to the reconstruction of water tables. Acacia trees act as a barrier to desertification while nourishing soils, making them more fertile and an asset for farming and for local communities. In addition, by drawing nitrogen from the air and by transferring it to the soils via their roots and their vegetative cover, acacias contribute to the development of the gas cycle while stabilizing rainfall.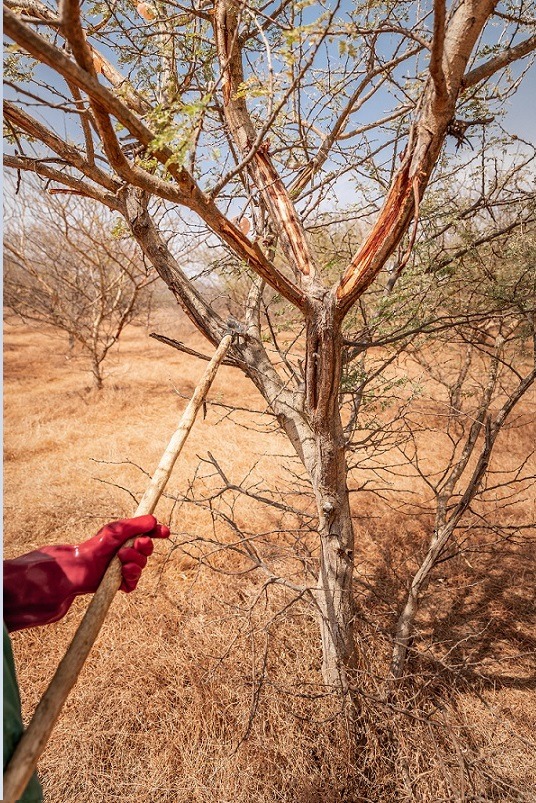 Furthermore, in periods of water stress, when the water runs out, acacias provide a much needed water supply to wildlife and domestic species. Acacia trees and their exudates allow to restore green in deserts and contribute to the preservation of local biodiversity. Trees supply forage and shade for cattle, but are also a genuine home for several bird species and are generally a supportive environment for plan biodiversity.
What is Alland & Robert doing?
Alland & Robert is participating to global projects to protect acacia trees and help structure the acacia gum sector in producing countries. For example in Sudan, Alland & Robert is helping the Sudanese Forest National Corporation (FNC) to support the rehabilitation and reforestation of areas with acacia trees. The FNC promotes collaborative and sustainable land management system, which integrates woody perennials with crops and/or animals on the same land for greater productivity. Acacia seyal and senegal trees are interspersed in rows of sorghum, sesame and vegetables. The global aim of this project is to reduce the pressure on the established forests.
Since 2020, Alland & Robert has launched "Let's plant Acacias together!", an initiative to plant acacia trees as a way to tackle climate change and bring subsistence in the African Sahel. With the aim of reaching at least 3,400 trees every year, Alland & Robert supports the reforestation of degraded land in 6 different locations from the Meki River to Park W National Reserve. The African Sahel region is one of the most vulnerable to climate change. With the campaign "Let's plant acacia together", Alland & Robert hopes to highlight the positive impact of acacia gum and acacia trees on the environment.