Environmental performance in our factories and offices
At our factories, environmental performance management is a crucial part of our goods and services offer.
We work on controlling our energy consumption, achieve efficiency gains and encourage recycling and sustainable processes.
Alland & Robert is committed to minimizing its energy consumption on its two production sites. Out of a concern for the environment, an energy assessment was carried out in 2010 on our St Aubin and Port-Mort production lines. The carbon footprint assessment was a first step towards better performance management. Since 2010, Alland & Robert has started to introduce corrective actions and improvement strategies identified as a result of the energy assessment, and implemented environmental indicators on each production line.
Now, every year, Alland & Robert is investing several hundreds of thousands euros in production equipment to improve the process and respect the environment. Alland & Robert is launching new studies regularly to optimize energy gains at our facilities.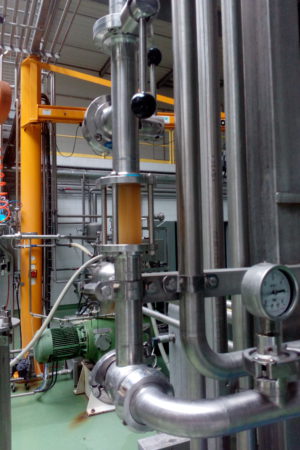 We also believe that education is a key to lowering our emissions. Everyone can help save energy through simple steps like making sure that screens are switched off overnight. In 2013, Alland & Robert has built a third spray drying tower in the respect of environmental friendly design standards like the use of daylight in the building and the optimization of ventilation and heat. In 2017, the new offices built next to the Saint-Aubin factory complied with the highest environmental norm. We are taking many other steps towards efficiency gains in offices buildings, and we are raising our employees awareness so that everyone feels involved and motivated by our objectives.
Finally, Alland & Robert is aware that purchasing decisions are impacting the environment. We choose, when possible, suppliers who are local in order to reduce transport and to promote local business, and we work with companies who have sustainable policies.
In order to recycle and reduce our waste, we partner with a leader in waste management and recycling. Both our hazardous and non-hazardous solid industrial waste are sorted by Alland & Robert's employees, then collected, recovered, treated and recycled by Veolia. Our cardboards and raw materials polypropylene bags are also reprocessed. Alland & Robert is sending 100% of liquid waste to a local water treatment station. This station is focusing on the disposal and recycling of organic waste. The recycling of this organic waste is providing electricity to the administrative buildings in Saint Aubin sur Gaillon, and heating the local swimming pool of the township all year long.